What you always desired
I am a Tuscan chef and my land represents the foundation of my cuisine. However, I love travelling and experimenting a lot. Over the years I have developed my own cuisine, which combines the honest ancient taste of Tuscan cuisine the preparation of original recipes, anxious, that combine modern colors and shapes with flavours centuries old.
My guests are the basis from which everything comes. Anyone of us has on his/her own mind his own menu, the one he always wanted to taste, that desired, that has seen. I take care to harmonize all of these desired and to create a special customised menu: the ingredients are always carefully selected (even when I am around the world, I always use trusted suppliers or Italian products having guaranteed quality!), the sequence of the dishes has been studies in order to satisfy the eyes and  palates, critical is their combination with wines. The dessert is the last pleasure of the day (or maybe not?).
Over the years, besides the dishes of classic Tuscan tradition, I also began creating fully vegetarian and vegan menus. Thanks t the cooperation with the Jewish community, I can now offer also a fully kasher menu (kasher halavi, kasher basari, kasher parve).
What I like most is the first meeting with my guests: listening to their desired, their idea of cuisine, their ideal menu. And then I propose, devise, organize a stupefying menu for them, their family and friends. After 15 years of experience, in Tuscany and all over the world, I have been able to stupefy, provide joy through food. That because my cuisine is one of the biggest forms of culture of my land: it bears its colors, perfumes, tradition and memory.
Through my cuisine, I carry Tuscany all over the world.
---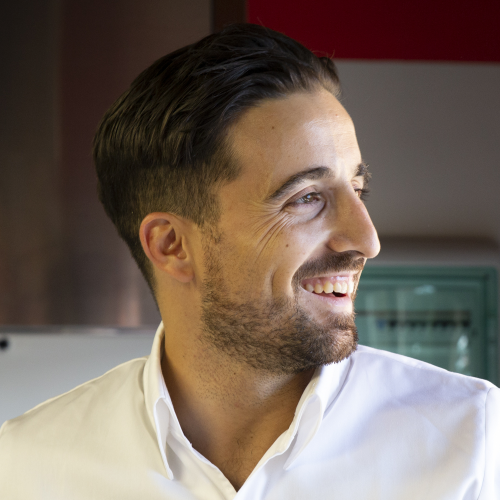 Your private chef
At your home, or boat, at your club, on your plane, on holiday.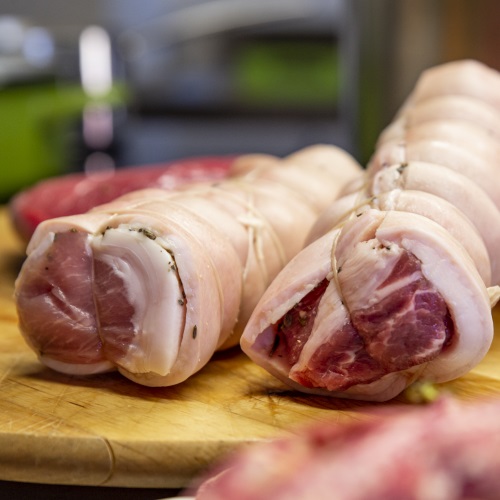 Selected Ingrediens
Just carefully selected ingredients, top quality, in Tuscany and all over the world.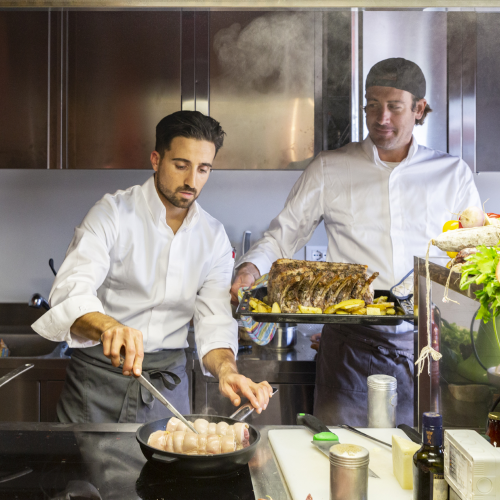 Private restaurant
On demand, a full un team of professionals at your place, from the to the sommelier.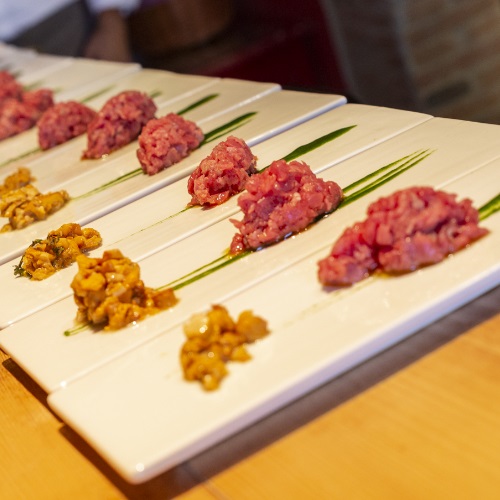 Top level cuisine
Sophisticated dishes, elaborated, with vivid and genuine taste, with a touch of Tuscan elegance.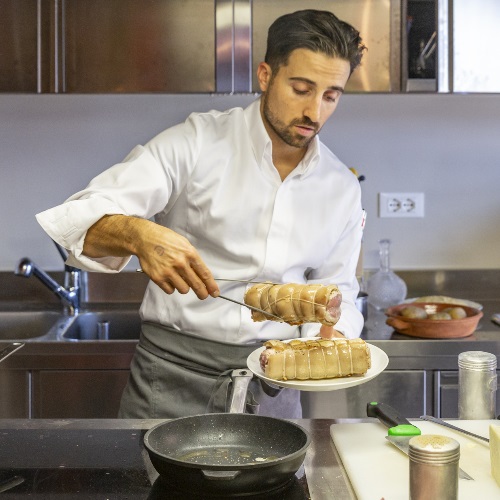 Customised Menu
Every menu is completely customised based upon my guests demands.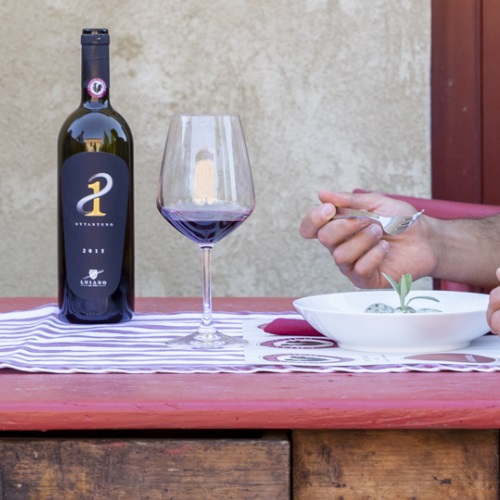 Wines combination
Always the right wine, thanks to the help of my sommelier.
---
Classic Tuscan menu

From the famous Florentine steak to the coastal fish recipes, the Tuscan cuisine lacks nothing! In my menus traditional recipes are never missing! I love using many ingredients produced by the Tuscan Slow Food chains (onions from Certaldo, beams from Sorana, Chianina IGP meats ) and I also love to revisit traditional cuisine.

Beefsteak, steak, arista
Game
Soups, broths and stews
Truffles and mushrooms
Cold cuts, cheeses and fried food
Crouton, bread covered with oil, panzanella
Pappardelle, pici, raviol, tortelli
Tripe, lampredotto, ossobuco
Cacciucco and fish dishes
Cantucci, cream cakes, zuccotto, tiramisu

Classic Tuscan menu

From the famous Florentine steak to the coastal fish recipes, the Tuscan cuisine lacks nothing! In my menus traditional recipes are never missing! I love using many ingredients produced by the Tuscan Slow Food chains (onions from Certaldo, beams from Sorana, Chianina IGP meats ) and I also love to revisit traditional cuisine.

Beefsteak, steak, arista
Game
Soups, broths and stews
Truffles and mushrooms
Cold cuts, cheeses and fried food
Crouton, bread covered with oil, panzanella
Pappardelle, pici, raviol, tortelli
Tripe, lampredotto, ossobuco
Cacciucco and fish dishes
Cantucci, cream cakes, zuccotto, tiramisu

Classic Tuscan menu

From the famous Florentine steak to the coastal fish recipes, the Tuscan cuisine lacks nothing! In my menus traditional recipes are never missing! I love using many ingredients produced by the Tuscan Slow Food chains (onions from Certaldo, beams from Sorana, Chianina IGP meats ) and I also love to revisit traditional cuisine.

Beefsteak, steak, arista
Game
Soups, broths and stews
Truffles and mushrooms
Cold cuts, cheeses and fried food
Crouton, bread covered with oil, panzanella
Pappardelle, pici, raviol, tortelli
Tripe, lampredotto, ossobuco
Cacciucco and fish dishes
Cantucci, cream cakes, zuccotto, tiramisu

Classic Tuscan menu

From the famous Florentine steak to the coastal fish recipes, the Tuscan cuisine lacks nothing! In my menus traditional recipes are never missing! I love using many ingredients produced by the Tuscan Slow Food chains (onions from Certaldo, beams from Sorana, Chianina IGP meats ) and I also love to revisit traditional cuisine.

Beefsteak, steak, arista
Game
Soups, broths and stews
Truffles and mushrooms
Cold cuts, cheeses and fried food
Crouton, bread covered with oil, panzanella
Pappardelle, pici, raviol, tortelli
Tripe, lampredotto, ossobuco
Cacciucco and fish dishes
Cantucci, cream cakes, zuccotto, tiramisu

Classic Tuscan menu

From the famous Florentine steak to the coastal fish recipes, the Tuscan cuisine lacks nothing! In my menus traditional recipes are never missing! I love using many ingredients produced by the Tuscan Slow Food chains (onions from Certaldo, beams from Sorana, Chianina IGP meats ) and I also love to revisit traditional cuisine.

Beefsteak, steak, arista
Game
Soups, broths and stews
Truffles and mushrooms
Cold cuts, cheeses and fried food
Crouton, bread covered with oil, panzanella
Pappardelle, pici, raviol, tortelli
Tripe, lampredotto, ossobuco
Cacciucco and fish dishes
Cantucci, cream cakes, zuccotto, tiramisu

---

Vegetarian and vegan menus

Tuscan tradition (as well as Italian!) contains many vegetarian and vegan recipes, since it stems from a country cuisine that originally could use meat and fish quite rarely. It is therefore very easy to create an excellent Tuscan menu fully vegetarian or vegan. Our incredible olive extra virgin oil, combined to a cuisine based upon the firstlings from the kitchen yard, allows us to create extremely tasty and unique dishes.

Crostoni with pates, mushrooms and vegetables
Soups, paps and broths
Pici
Risotti
Pies, vegetables pies and timbales
Panzanella
Checkpeas pie and flattened bread
Vegetable pies Vegetables Millefeullie
Cavallucci, flattened bread, castagnaccio, cantucci

Vegetarian and vegan menus

Tuscan tradition (as well as Italian!) contains many vegetarian and vegan recipes, since it stems from a country cuisine that originally could use meat and fish quite rarely. It is therefore very easy to create an excellent Tuscan menu fully vegetarian or vegan. Our incredible olive extra virgin oil, combined to a cuisine based upon the firstlings from the kitchen yard, allows us to create extremely tasty and unique dishes.

Crostoni with pates, mushrooms and vegetables
Soups, paps and broths
Pici
Risotti
Pies, vegetables pies and timbales
Panzanella
Checkpeas pie and flattened bread
Vegetable pies Vegetables Millefeullie
Cavallucci, flattened bread, castagnaccio, cantucci

Vegetarian and vegan menus

Tuscan tradition (as well as Italian!) contains many vegetarian and vegan recipes, since it stems from a country cuisine that originally could use meat and fish quite rarely. It is therefore very easy to create an excellent Tuscan menu fully vegetarian or vegan. Our incredible olive extra virgin oil, combined to a cuisine based upon the firstlings from the kitchen yard, allows us to create extremely tasty and unique dishes.

Crostoni with pates, mushrooms and vegetables
Soups, paps and broths
Pici
Risotti
Pies, vegetables pies and timbales
Panzanella
Checkpeas pie and flattened bread
Vegetable pies Vegetables Millefeullie
Cavallucci, flattened bread, castagnaccio, cantucci

Vegetarian and vegan menus

Tuscan tradition (as well as Italian!) contains many vegetarian and vegan recipes, since it stems from a country cuisine that originally could use meat and fish quite rarely. It is therefore very easy to create an excellent Tuscan menu fully vegetarian or vegan. Our incredible olive extra virgin oil, combined to a cuisine based upon the firstlings from the kitchen yard, allows us to create extremely tasty and unique dishes.

Crostoni with pates, mushrooms and vegetables
Soups, paps and broths
Pici
Risotti
Pies, vegetables pies and timbales
Panzanella
Checkpeas pie and flattened bread
Vegetable pies Vegetables Millefeullie
Cavallucci, flattened bread, castagnaccio, cantucci

---

Kosher Menu

From the big and historical Jewish communities from Florence, Livorno and Pitigliano, we received a huge heritage of own recipes, which blends the Tuscan culinary traditions with compliance to the kosher standards (that we in Tuscany call "kasher", according to the sephardic spelling!). In addition to that I have got the chance to have a Mashgiach from the local Jewish community to monitor in order for the kitchen procedures to comply to all the kasherùt rules.

Fresh Pasta
Risotti
Beef Manzo in dolce forte
Roast-beef
Peperonata
Lamb from Pistoia mountains
Cuscussu Livorno's way
Meats from the S. Ambrogio kasher butcheries
Fishes from the S. Ambrogio kasher fishmongers
Sfratti from Pitigliano

Kosher Menu

From the big and historical Jewish communities from Florence, Livorno and Pitigliano, we received a huge heritage of own recipes, which blends the Tuscan culinary traditions with compliance to the kosher standards (that we in Tuscany call "kasher", according to the sephardic spelling!). In addition to that I have got the chance to have a Mashgiach from the local Jewish community to monitor in order for the kitchen procedures to comply to all the kasherùt rules.

Fresh Pasta
Risotti
Beef Manzo in dolce forte
Roast-beef
Peperonata
Lamb from Pistoia mountains
Cuscussu Livorno's way
Meats from the S. Ambrogio kasher butcheries
Fishes from the S. Ambrogio kasher fishmongers
Sfratti from Pitigliano

Kosher Menu

From the big and historical Jewish communities from Florence, Livorno and Pitigliano, we received a huge heritage of own recipes, which blends the Tuscan culinary traditions with compliance to the kosher standards (that we in Tuscany call "kasher", according to the sephardic spelling!). In addition to that I have got the chance to have a Mashgiach from the local Jewish community to monitor in order for the kitchen procedures to comply to all the kasherùt rules.

Fresh Pasta
Risotti
Beef Manzo in dolce forte
Roast-beef
Peperonata
Lamb from Pistoia mountains
Cuscussu Livorno's way
Meats from the S. Ambrogio kasher butcheries
Fishes from the S. Ambrogio kasher fishmongers
Sfratti from Pitigliano

Kosher Menu

From the big and historical Jewish communities from Florence, Livorno and Pitigliano, we received a huge heritage of own recipes, which blends the Tuscan culinary traditions with compliance to the kosher standards (that we in Tuscany call "kasher", according to the sephardic spelling!). In addition to that I have got the chance to have a Mashgiach from the local Jewish community to monitor in order for the kitchen procedures to comply to all the kasherùt rules.

Fresh Pasta
Risotti
Beef Manzo in dolce forte
Roast-beef
Peperonata
Lamb from Pistoia mountains
Cuscussu Livorno's way
Meats from the S. Ambrogio kasher butcheries
Fishes from the S. Ambrogio kasher fishmongers
Sfratti from Pitigliano

---

Catering and banqueting

I can provide a full catering service, including all the equipment and staff, either in Italy and all over the world. I can customise every event 100%, from a business event with high involvement up to small top quality intimate events, like birthdays, private feasts, celebrations, gourmet dinners, in locations of my choice or in private residences. I can also provide show cooking and courses for corporate team building I can provide advices for any type of private and public event.

Weddings
Show cooking
Team building
Customised cokery courses
Menu for sport events
Menu for public celebrations
Menu for private parties
Full catering equipment chartering
Complete staff available (souschefs, waiters, sommelier, etc)

Catering and banqueting

I can provide a full catering service, including all the equipment and staff, either in Italy and all over the world. I can customise every event 100%, from a business event with high involvement up to small top quality intimate events, like birthdays, private feasts, celebrations, gourmet dinners, in locations of my choice or in private residences. I can also provide show cooking and courses for corporate team building I can provide advices for any type of private and public event.

Weddings
Show cooking
Team building
Customised cokery courses
Menu for sport events
Menu for public celebrations
Menu for private parties
Full catering equipment chartering
Complete staff available (souschefs, waiters, sommelier, etc)

Catering and banqueting

I can provide a full catering service, including all the equipment and staff, either in Italy and all over the world. I can customise every event 100%, from a business event with high involvement up to small top quality intimate events, like birthdays, private feasts, celebrations, gourmet dinners, in locations of my choice or in private residences. I can also provide show cooking and courses for corporate team building I can provide advices for any type of private and public event.

Weddings
Show cooking
Team building
Customised cokery courses
Menu for sport events
Menu for public celebrations
Menu for private parties
Full catering equipment chartering
Complete staff available (souschefs, waiters, sommelier, etc)

Catering and banqueting

I can provide a full catering service, including all the equipment and staff, either in Italy and all over the world. I can customise every event 100%, from a business event with high involvement up to small top quality intimate events, like birthdays, private feasts, celebrations, gourmet dinners, in locations of my choice or in private residences. I can also provide show cooking and courses for corporate team building I can provide advices for any type of private and public event.

Weddings
Show cooking
Team building
Customised cokery courses
Menu for sport events
Menu for public celebrations
Menu for private parties
Full catering equipment chartering
Complete staff available (souschefs, waiters, sommelier, etc)

---

My supply chain

After all it is not that hard: I just use local top quality and seasonal products. I have been looking for top quality products since many years, because they are the foundations of my cuisine. With no sublime ingredients, you will never get any magical cuisine. From this so my search starts: the right oil, bread cooked in a wooden oven, the freshest local meats and fishes, tomatoes and Maremma rice, Mugello cheeses. Everything a zero kilometre, in compliance to nature and tradition.

Fresh home baked bread

Bread in Tuscany is really sacred and knead, leavened and baked like our ancestors did. Whenever I am in Tuscany I buy it from local bakers, a real good tasting one, created like they used to do. When I am abroad, I cook it using the best flours I can find.

Vegetables from the kitchen yard

I select all the vegetables from strictly local sellers and always respecting the seasons: every time brings its own fruits and, in my cuisine, every month has its own corresponding different vegetables and fruits, just like they used to do, in compliance with nature and health.

Tuscan meat

I always select just top quality meats. I have a trusted butcher I always use, so I always know where the cattle is coming from, be it read meat, white meat or game. This way I am always sure to be able to offer very fresh and excellent meats.

Fresh fish

I always select freshest fishes from the Tuscan shores or from local central markets, that have on offer a broad variety of fishes, molluscs and crustaceans. The fish I cook is always guaranteed concerning its size, freshness and quality.

Local cheeses Tuscany is the land of cheeses

Tuscany is the and f cheeses, due to its ancient pastoral vocation. I love always using local cheeses in my appetizers and also in some recipes: they are tasty but balanced, savoury but delicate. For the cheeses too I select them only from local producers, being sure of the quality of their product.

Good wine

Wine represents the perfect frame for any meal: it does accompany all the flavours, odours, outlines taste and completes it. Thanks to my father's experience I have a large knowledge of Tuscan wines and I am able to perfectly combine my dishes with the best bottles from the area wine cellars.

Flours & Pasta

All the pasta I cook is handmade using eggs from chicken nurtured outside and flours stone grinded from local grain. I have been checking the quality of the main ingredients for my pasta since many years, in order to guarantee its taste and porosity. All the stuffing have been realized with the freshest and tastiest ingredients.

Tags: tuscany chef at home, cooking school tuscany, private chef tuscany, kosher tuscany, chef catering tuscany